Why Choose H. Lamm Industries…
At H. Lamm Industries, we pride ourselves in being a family-owned business with a reputation of finishing each job to the highest satisfaction. Over the past 37 years, HLI has earned the respect of industry peers for our ethical conduct, long-term partnerships and accountability.
Since we opened for business, we have been at the same location. Today our office, fabrication and warehouse facility space totals approximately 32,000 sq ft giving us plenty of room to complete any project which comes our way.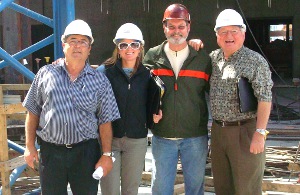 Involving our company at the very beginning of a job contributes to a smooth, streamlined run project. From the start, we coordinate with the other trades and develop our own in-house shop drawings utilizing the latest technology. Our CAD-duct/BIM department is connected directly with our shop's newest fabrication programs and equipment, helping to minimize errors. Once the duct is fabricated, it is delivered to the jobsite and installed by HLI trained sheet metal mechanics. Jobs are not outsourced or subcontracted out. This ensures the utmost quality of work.
The pride and skills of our competent workforce is unmatched. Our company promotes from within. Several employees have been with our company for over 30 years, practically growing up with us and climbing the ranks from apprentice to foreman, superintendent, project management, CAD draftsman and VP.
HLI's safety philosophy is to foster and strive for an Injury-Free Environment. Our employees are our most

valuable resource. Our goal is to complete each daily task in the safest possible manner, while delivering the utmost in quality within the client's timeframe. Along with a drug-free policy and regular safety education and training sessions, we help our workers develop a positive attitude towards safety. Safety is learned and practiced every day.
Once H. Lamm Industries earns the opportunity to perform work for a client, such as an owner, general contractor, construction manager, and mechanical contractor, our top priority is to meet or exceed their highest expectations.



About Us...

History
Why Choose HLI?
Path To Success
Contact Us