Welcome



Welcome to H. Lamm Industries, Incorporated; a veteran licensed and insured HVAC sheet metal ductwork fabricator and contractor serving clients throughout South Florida since 1974.
You have now entered our world of "Designing, Bending and Hanging Metal."

What We Do
Over 37 years of quality craftsmanship, H. Lamm Industries, Inc. (HLI) has specialized in the fabrication and installation of HVAC ductwork & accessories, both metal and fiberglass, in all varieties, shapes and forms.

Our extensive experience includes: commercial buildings, industrial warehouses, high-rise buildings, stadiums, pharmaceutical facilities, health care and living facilities, along with institutional/public projects, such as schools in new construction, additions, renovations and tenant build-outs.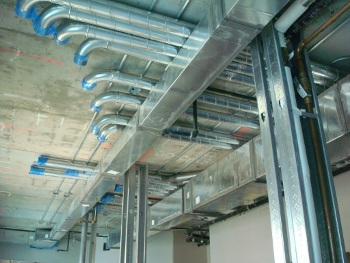 HLI performs other applications such as ductwork retrofit for air handler unit replacements along with generator shrouds, kitchen exhaust, laboratory ventilation upgrades and preparing roof top ductwork to conform to the most current, stringent hurricane force wind codes in the country.
Projects are never too small or too large for our firm. Flexibility is our strength and servicing your ductwork needs is key to our success. Having the ability to bond work confirms we have the financial and personnel resources needed to complete a project on time and within budget.
Visit our Products Page to see the wide array of custom products we fabricate and install.

Who we cater to...

H. Lamm Industries is proud to service clients that include local, well-respected mechanical contractors, general contractors, roofing contractors and maintenance department heads. We have helped to install many high efficiency systems in this area and have earned a reputation for doing the job right the first time around.

About Us...